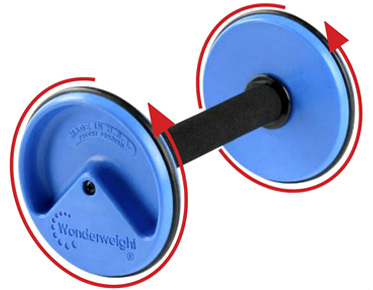 I'm a Baseball Pitcher – How Can Wonderweight Help Me?
Pitching and Throwing
Dr. Tom House at the University of Southern California and director of the National Baseball Pitchers Association has approved Wonderweight Trainers for all parts of his pitching program nationally. Those baseball players in his pitching program at USC, both amateur and Major League, are using Wonderweights with great success to enhance throwing, accuracy and strength.
Injury Prevention
First, injuries may be reduced by warming up prior to a game or workout. This can be done quickly with a Wonderweight trainer in only a few minutes before each activity. You may want to consider a training program that includes traditional exercises to strengthen and increase range of motion, as well as using a Medium Wonderweight 1-2 minutes before, and between sets.
Do what you feel is best for you, as each individual is different. If you are not sure as how best to accomplish this, speak with your physical therapist or trainer prior to use.
Baseball has historically placed significant emphasis on training programs that stress the repetition of various physical movements, in the development of throwing, hitting, and base-running skills.
The sport has a correspondingly very high incidence of injuries resulting from an overload on the ability of a structure to endure the repetitive movement, particularly arms and shoulders. Adding Wonderweight into a training program can reduce the possibility of these stresses.
Wonderweight Awards
Wonderweight was awarded "Best of Show" on January 7, 2011 at the National Baseball Coaches Association convention in Nashville Tennessee. The award was presented to Justin Elledge, it's inventor by John Pinkman, director of the Pinkman Baseball Academy and Betty Rulong, both of the ABCA board.
The board felt that the new Wonderweight trainer was by far the most unique device for improving the sport of baseball at the convention. It can be applied to improving both throwing and batting as well.
Did you know the U.S. Consumer Products Safety Commission reports that each year more than 627,000 baseball-related injuries are treated in hospitals, doctors' offices, clinics, ambulatory surgery centers, and hospital emergency rooms. The most common baseball injuries include mild soft tissue injuries, such as muscle pulls (strains) and ligament injuries (sprains) which may be prevented if the player's muscles are properly warmed and toned.
Injuries
Pitchers sustain more injuries than any other baseball player. The overhand throwing of a baseball by a pitcher is an unnatural motion for the elbow and the shoulder to endure. The mechanism of the baseball pitch involves rotation of the shoulder joint, twisting of the upper arm and elbow, extension of the forearm, and flexion of the wrist. The serious shoulder injuries sustained by pitchers primarily relate to the Rotator Cuff.
The rotation of the shoulder during a pitching motion will often lead to a grinding or displacement of the structure. Wonderweight's strengths are the activation of muscles that surround and support the shoulder, strengthening not just the Rotator Cuff muscles but those of the back, torso and core, thus helping prevent injury.
Will Wonderweight Help If I Need Rehabilitation
In the world of sports medicine, on average, it can take from one to one and a half years or more to recover from a Rotator Cuff shoulder injury. After surgery, traditionally, it may be six months or more before you are able to simply return to basic function, like raising your arm above your head. A Rotator Cuff injury, for most players, is usually a career ending condition. Using a Wonderweight trainer as part of a rotator cuff rehab therapy program will increase the likelihood of a positive outcome.
If an injury does occur on the field, recovery time may be decreased using the rotary motion involved in Wonderweight's action. Even after surgery when used as part of a physical therapy program, Wonderweight may help return a pitcher or player to the game in less time than traditional programs.
Some individuals also report an increase of coordination when throwing after using a Wonderweight trainer daily for a few weeks. In all cases regarding injury, always seek care from a health care professional prior to using any form of exercise or therapy device.
Wonderweight is fast becoming the premier training, Prehab and rehab tool for sports fitness and medicine, especially for baseball pitchers. Wonderweight is used as a tool to enhance arm and muscle function as well as coordination. Studies underway at USC School of Medicine via RDRBI Inst., indicate increased ball velocity as well as accuracy. Some players have demonstrated 2-3 MPH improvement in only 2-3 weeks of use.